The Public Sector Uptake and Edge Matrix
Overview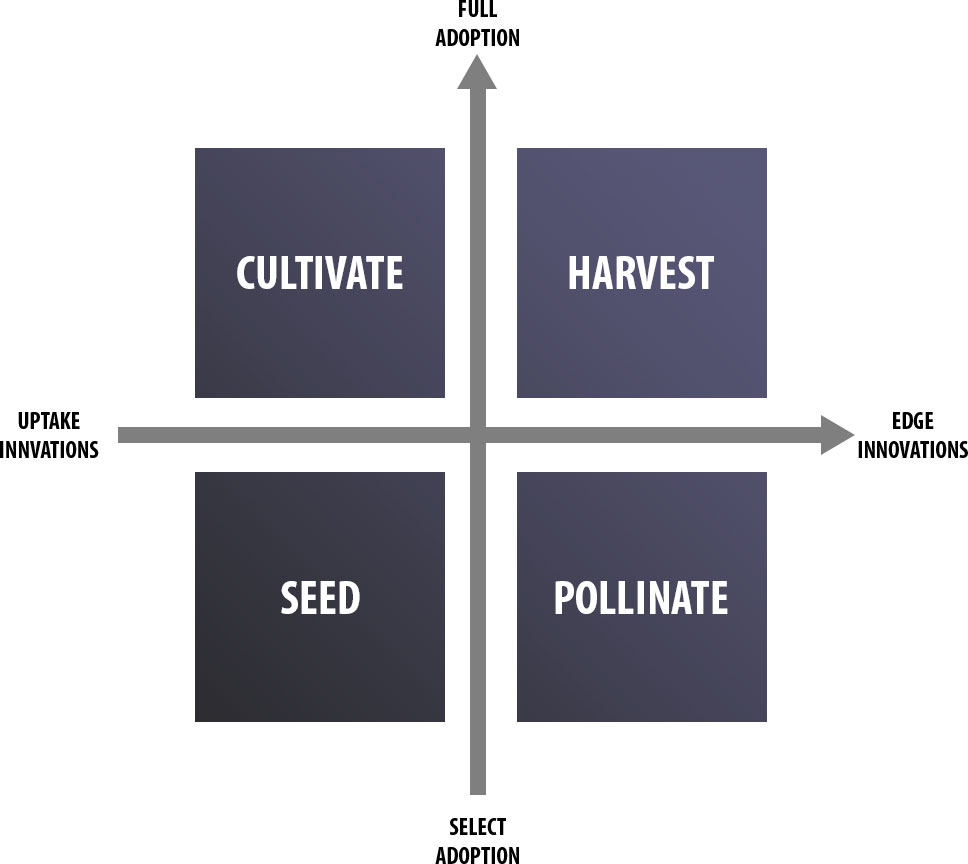 In our rapidly changing environment – marked by a post-recession economy, a changing workforce, new tools and technologies, and new demands for outcomes, transparency, and engagement – leaders must develop a strong understanding of how to effectively manage and pace transformational change.
This matrix, which measures the sophistication and pervasiveness of new operational models, is intended as a guide to help leaders chart a course for their organization. By identifying both where their organizations fall on the matrix and where innovations under consideration fall, leaders can focus their efforts accordingly and employ the most effective strategies to accelerate continuous and multi-faceted enterprise-wide transformation.
The X-Axis
The x-axis of the matrix measures sophistication of new operating models. At the far left of the axis are "Uptake Innovations." Implementing Uptake innovations is the action or process of absorbing or adopting something that is available and gaining popularity. Uptake Innovations and business models, such as shared services, are proven to increase effectiveness and efficiency, yet still require robust leadership to move the organization through adoption and change.
At the far right of the axis are the emerging "Edge Innovations." Edge innovations, such as redesigning government through behavioral economics, are new concepts for generating public value, but are poised to change operating standards, management frameworks, and the future of governing.
The Y-Axis
The y-axis of the matrix measures pervasiveness, the breadth with which new operating models are adopted across an enterprise. The bottom of this axis represents select adoption, which would describe an organization implementing a few pilot projects based on this new model. The top of the axis represents complete adoption across the entire organization.
Uptake and Edge Matrix was used from both a leadership and strategic perspective to guide leaders in employing new innovations and models:
Leadership
The Matrix helps leaders understand and plan for moving both Uptake and Edge innovations forward. As a leader assesses his or her organization, different strategies can be employed depending on location in the Matrix:
Cultivate

In this quadrant the organization has successfully adapted to Uptake innovations, and the role of leadership is to maintain that progress, while leveraging that stability for more Edge-based innovations.

Harvest

In this quadrant the organization has a robust portfolio of both Uptake and Edge innovations, and the role of leadership is to standardize the new operating models, while optimizing the efficiency and effectiveness.

Seed

In this quadrant the organization has a few pilot projects based on Uptake innovations, and the role of leadership is to ensure a stable environment for adoption, while building a pathway for increased participation across the enterprise.

Pollinate

In this quadrant the organization is experimenting with Edge innovations, and the role of leadership is to foster learning on the value of the innovation, while assessing feasibility of enterprise-wide adaptation.
Strategy
The framework focuses on four strategic areas where new operating models for transforming government have the potential to spur enterprise-wide transformation: The Optimized Enterprise, the Agile Workforce, the Evidence-Based Organization, and the Citizen-Centric Service.
The Optimized Enterprise

Public sector organizations that are successful "optimized enterprises" have fluid and responsive organizational structures and business models that maximize public value. With this new posture, leaders and managers view government processes, systems, and resources as "components" that can be put together in new ways, shared, and shifted to meet policy and programmatic goals. The ability to "shape shift" an organization in this category will grow as continual advances in information and communication technologies and cloud computing will enable government to work across organizational boundaries and gain economies of scale, economies of scope, and economies of learning like never before.
From an Uptake and Edge perspective, the spectrum of innovation starts with consolidating common business applications for efficiency. This is followed by establishing a shared services center to run common services, then to sharing services and expertise across jurisdictional lines, and finally to leveraging market-based solutions in which government can both sell and procure services across sector lines.
The Agile Workforce

Government is on the front lines of solving increasingly complex societal challenges. With this complexity comes the need to not only create capacity in current employees, but also develop a workforce with the agility to meet the demands of the future. In addition, the convergence of demographics (a coming retirement wave) and new methods of working (such as Results Oriented Workplace Environments, telecommuting, and "lean" structures) is creating an inflection point for government. Thus, leaders in all levels of government will need to assess current capacity and anticipate skillset demands of the future.
From an Uptake and Edge perspective, moving along the spectrum starts with assessing current trends and the workforce, followed by increasing capacity through recruitment and education, Developing specialized knowledge centers that can be shared across the enterprise comes next, and finally, the organization enables leaders to oversee capital and labor across traditional agency, organizational, and jurisdictional boundaries.
The Evidence-Based Organization

An Evidence-Based Organization adopts new capabilities to track performance of policy and programs, benchmark against peers and redesign operations, and measure outcomes to enable new levels of public value. This new capacity for measuring results is enabled by the intersection of technological platforms, social networks, environmental sensors, inexpensive data storage and data analysis methods (both people and software and "big data" and "analytics") that allow better measurement across the entire enterprise of inputs, outputs, outcomes, and impact.
From an Uptake and Edge perspective, the Uptake end of the spectrum starts with the basic tracking of inputs and outputs, followed by measuring programmatic outcomes. Utilizing outcome measurement and analytics for organizational and programmatic innovation comes next, and finally harnessing analytics, controlled trials, and evidence-based budgeting for transforming policy and programs.
The Citizen-Centric Service

Leading governments are moving to citizen-centric business models that are "open" to citizens to provide feedback, track service progress, and help design service offerings. This trend is mirroring societal changes that favor open business models in which consumers and stakeholders engage directly with a service provider to design, develop, and deliver a product or service. Network-enabled collaboration technologies and tools make sharing ideas and co-production not only more seamless, but also less costly to manage.
From an Uptake and Edge perspective, the spectrum starts with first working to transform paper-based and silo-based information into readable data that's accessible to the public, followed by deploying platforms that allow for increased constituent interaction and feedback, to enabling constituents to co-create policy and programs, and finally to partnering on designing, building, and delivering services.