The 2016 Public Sector for the Future Summit:
Designing Public Services for a Digital World
When & Where
June 14-16, 2016
Harvard University
Cambridge, MA
View the Post-Summit Report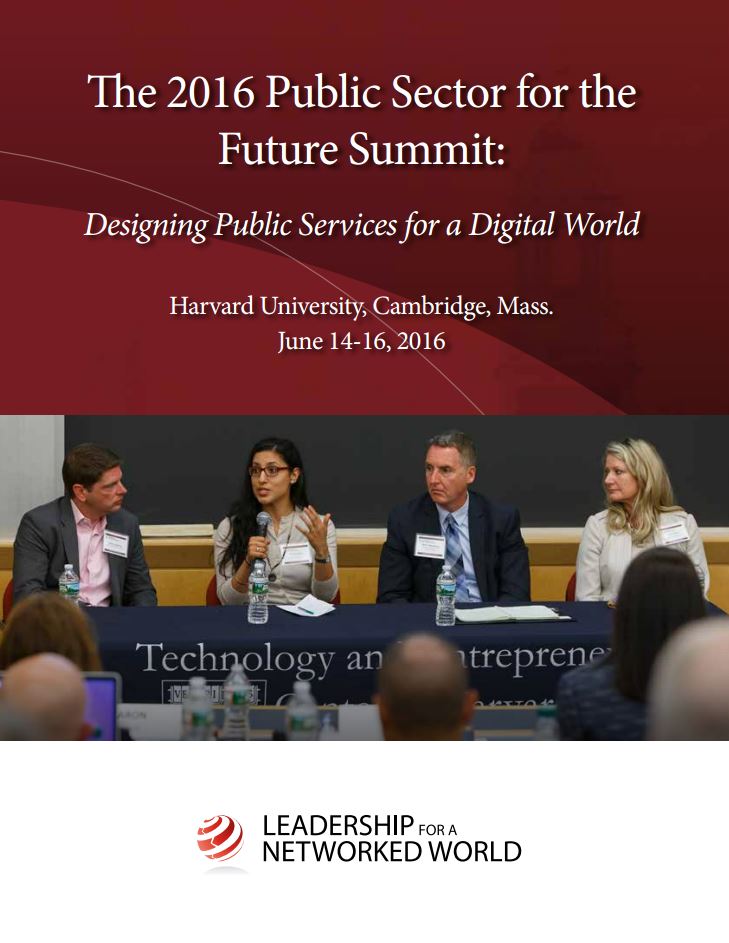 About the Summit
There is no debating the digital future is here – and it's impacting government. Citizens want public services 24/7, mobile, anticipatory, personalized, and simple – just like they get from other service organizations. They want their government to be as smart as their smartphone. They want their government in their pocket. They demand a government that's ready and available when they are.
The central challenge for public sector leaders is this: Design government organizations for this new digital world or lose public support and legitimacy.
We've redesigned governments before in the face of such massive change. The last great redesign came at the beginning of the 20th century when we needed a design to address corruption and to scale services as the nation and economy grew. We needed a design that focused on accountability, transparency, equity, and fairness – and we successfully created it. Yet in today's digital world, we also need the agility, speed, and flexibility that citizens demand.
Now, how we design governmental organizations is more important than ever. The public sector for the future will require a fresh look at organizational structures and systems, and the human resources and cultures that hinder or harness the ability to produce results. As government leaders look to design government for a digital world, questions arise such as:
What are the best practices, models, and examples of balancing classic government operating models with the new abilities of digital business models?
When should a government organization adopt new digital technologies and tools, and how should the adoption be paced and managed?
How can government grow and develop the skills and capabilities of people as well as the partnerships needed to deliver on the new designs of government?
What leadership strategies and methods can be used to prepare and change organizational culture for a digital world?
To address these critical questions, Leadership for a Networked World and the Technology and Entrepreneurship Center at Harvard, in collaboration with Accenture, are convening the 2016 Public Sector for the Future Summit: Designing Public Services for a Digital World. This tenth annual Summit will not only help participants implement near-term innovations, but also guide their design of longer-term strategies that improve government effectiveness, efficiency, and outcomes.
The Summit's agenda is developed in collaboration with senior-level public officials who have both policy and operational roles, and integrates insights from industry luminaries and Harvard researchers and faculty.
Join us on the Harvard University campus June 14 – 16, 2016, for this important event. Together, participants will enhance their leadership skills, share insights, and learn practical methods to design governmental organizations for measurable results.Nike SB Hyperfeel Koston 3