The 2016 Public Safety Summit:
Growing Capacity and Legitimacy
When & Where
April 29-01, 2016
Harvard University
Cambridge, MA
View the Post-Summit Report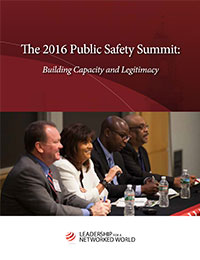 About the Summit
Today's public safety leaders often feel squeezed in a vise. On one side pressure is ramping up to respond to evermore-complex crime and public safety threats such as natural disasters, violent extremism, and cybercrime. On the other side are pressing demands for citizen engagement, stakeholder collaboration, and community outreach. Policing leaders can feel torn: Should they focus on fighting crime efficiently? Or should they focus on growing public trust?
Forward-thinking public safety leaders realize that to build legitimacy the answer is "yes" – to improving both crime prevention and public trust. Yet to accomplish both objectives, public safety leaders will need to pursue innovations that increase organizational capacity. In a world of limited resources, finding the right mix of innovations will require grappling with tough questions, such as:
What innovative strategies and operating models can reduce operational costs and complexity, but also increase agility in policing structures, systems, and people?
How can digital tools such as social media, data, and analytics improve crime response, as well as engage the community in co-creation of public safety solutions?
What new recruitment and training methods will improve current capabilities and develop a pipeline for the leadership and skills needed in the future?
What type of leadership is needed to simultaneously build near-term operational capacity, facilitate change, and adapt organizational culture for the long-term?
To help public safety leaders work through and answer these challenging questions, Leadership for a Networked World and the Technology and Entrepreneurship Center at Harvard, in collaboration with Accenture, are convening The 2016 Public Safety Summit: Building Capacity and Legitimacy, to be held April 29 – May 1 at Harvard University in Cambridge, Massachusetts.
This 2nd annual Summit will bring together senior-most policing and public safety leaders to learn and share ideas on how police chiefs, sheriffs, commissioners and others, can not only respond to broadening responsibilities more efficiently and effectively, but also transform their organizations, operating models and cultures to deliver improved policing outcomes and legitimacy. Air Jordan