The 2018 Next Generation Operations Summit:
Shaping a Growth Agenda
When & Where
June 13-15, 2018
Harvard University
Cambridge, MA
View the Post-Summit Report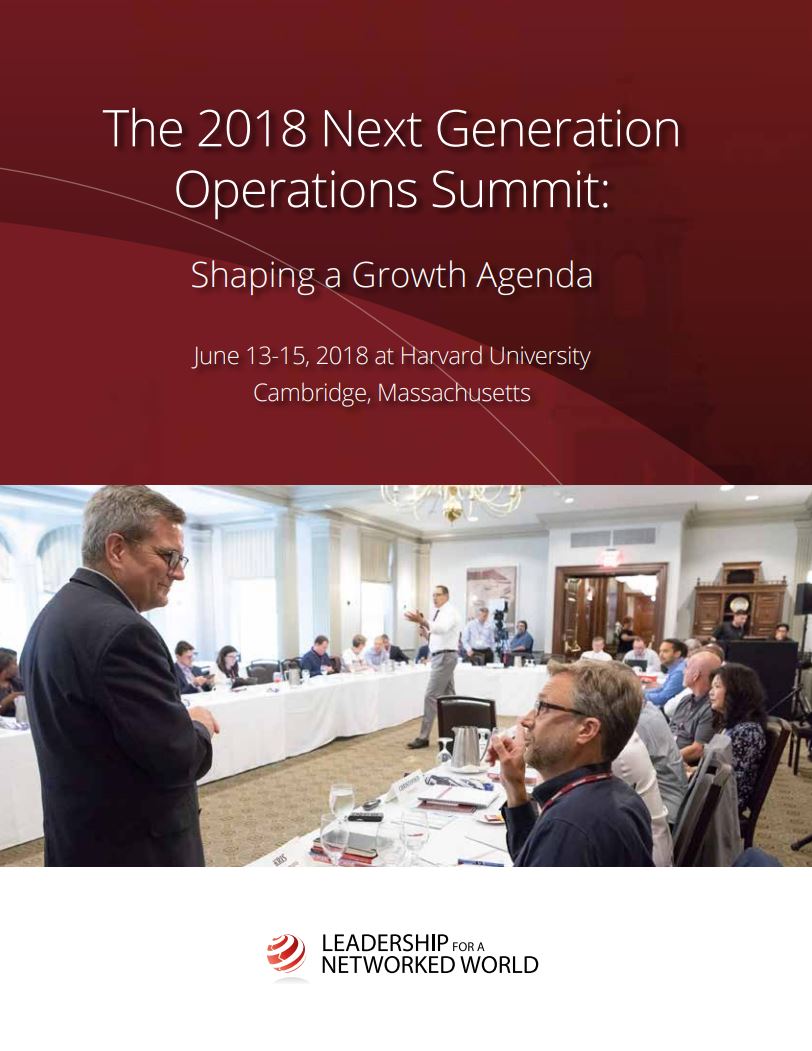 About the Summit
If there's one commonality in society, it's the dynamic pace of innovation and change. Fueling this environment are the forces of deepening digital disruption, shifting market boundaries, and growing customer power and choice. Amidst all this one thing is certain – architecting an agile supply chain is the catalyst to shaping a growth agenda.
For chief operating officers and chief supply chain officers (COO/CSCOs), shaping a growth agenda means building supply chains that are robust enough to maintain stability and accountability, but also agile enough to offer choices and delight customers, driving growth. Progress will require a deft hand, as leaders will face fresh challenges in managing multiple business models, freeing up resources to invest in innovation, and creating new ecosystems of suppliers and partners to deliver more customer-centric solutions.
To help next generation supply chain leaders acquire these new strategies and capabilities, Leadership for a Networked World and the Technology and Entrepreneurship Center at Harvard, in collaboration with Accenture Strategy, are convening the 2018 Next Generation Operations Summit: Shaping a Growth Agenda to be held June 13 – 15 at Harvard University in Cambridge, Massachusetts.
At the 2018 Summit, participants will learn about and share best practices on shaping the supply chain of the future. In particular, the Summit will look at the challenges and opportunities via:
Leadership - How can supply chain and operations executives work across the c-suite to shape the business and translate customer insights into a competitive advantage?
Strategy –What new methods enable Customer Centricity and incubate disruptive business models that will fuel future growth while optimizing the supply chain?
Technology – Where can big data science and analytics, including artificial intelligence techniques such as machine learning and deep-learning,digital tools and platforms such as artificial intelligence, machine learning, and predictive analytics bring newfound agility and insights to operations?
Human Capital – In a digital world, what capabilities will people and teams require? And how can leaders cultivate a culture of innovation that becomes an enabler of creativity and progress?