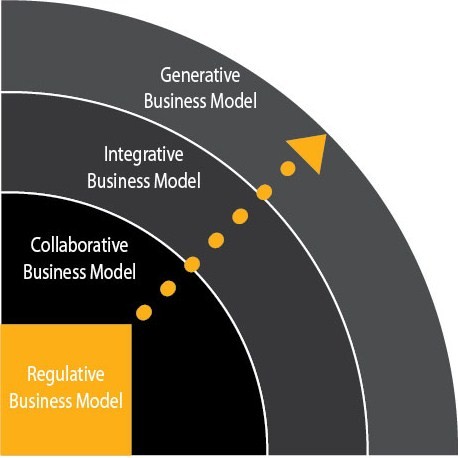 This level serves as a baseline – all human services organizations start here and must meet this level in order to comply with program contractual requirements. With this basic business model, programs and processes are developed and managed categorically and are usually aligned with discrete funding streams. Information technology and support tools are designed to support program-specific management, funding, eligibility, case management, and customer interactions. In practice, operating at this level enables an organization to react to a crisis and respond to acute problems, which are valuable traits. Yet too much emphasis on regulative competencies will diminish the organization's ability to meet greater and more comprehensive service demands. When making the first moves beyond a Regulative Business Model, one should look to the mission of the organization and the outcomes desired from programs. Then, take a portfolio view by scanning programs to assess where collaborative connections can be made.
Diagnostic Metrics & Checkpoints:
Outcomes & Impact Design:

The enterprise is actively defining and documenting outcome goals that flow across programmatic boundaries and is developing a standardized set of measures to track progress.

Organizational & Practice Design:

The enterprise is maintaining current managerial and operating processes while designing new approaches for capacity-oriented work and cross-program service delivery.

Systems & Technology Design:

The enterprise is piloting systems, technologies, and tools that help bridge silos and build the cross-program and cross-organization communication necessary for the future.
For example, in the state of Louisiana and Hampton County, Va., Regulative business models provided needed funding, but silo-based organizations and customer overlap produced inefficiencies. In both places, moving up the Human Services Value Curve meant inspecting under the hood of multiple organizations.
A primary issue for both systems was multiple agencies serving the same families, which escalated costs and resulted in service gaps or redundancies. In Louisiana, four agencies served children and families, but while many of the parents of families needed the same services that are in family assistance, they were not linked to those services. Client interaction was almost all face-to-face and paper-intensive. In Hampton County, 16 different federal and state programs were funding similar treatments with each funding stream having a different local match while state costs were rising by 20 percent annually.
To become more outcomes-oriented, leaders in both systems moved towards the collaborative level. Louisiana's silos have turned into Common Access Front End (CAFÉ) which integrates management and delivery of services through a customer call center, electronic case management, an online client portal, and a worker portal providing cross-program views of customers. Hampton County benefitted from gubernatorial support of the Comprehensive Services Act (CSA), which stressed family focused, community-based outcomes found from community reviews and tailor-made response plans. Some Hampton successes include steep drops in foster care and residential treatment and 99 percent of the funding provided by legislation to work with vulnerable families goes toward community-based interventions.