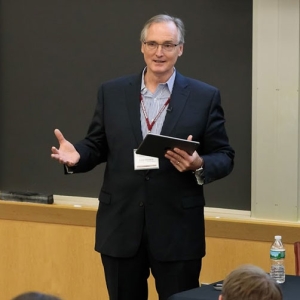 In fall 2014, Mark Stutrud was fishing for salmon in Michigan's Pere Marquette River when a colleague introduced an intriguing but fraught proposition: interviewing to become the CEO of Lutheran Social Services of Illinois (LSSI), the largest statewide social service agency in the state. As Stutrud...
Hosted by

Leadership for a Networked World's applied research, student innovation challenge, and on-campus summit programs are an initiative of Dr. Antonio M. Oftelie, Innovation Fellow at the Technology and Entrepreneurship Center at Harvard (TECH), part of the Harvard John A. Paulson School of Engineering and Applied Sciences. TECH is a hub for students, faculty, alumni, and government and industry leaders to learn together, collaborate, and innovate. LNW accelerates these efforts by connecting leaders across sectors and developing cutting-edge thought leadership on innovation and organizational transformation.
© 2018 Leadership for a Networked World. All Rights Reserved.